New HVA94 hipot tester
Testing of 66 kV high voltage cables is possible now!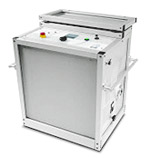 The HVA94 cable tester is especially designed to perform VLF testing on high voltage cables for commissioning and maintenance tasks.
VLF cable testing
VLF cable testing is the cutting-edge technology for proof testing of fully operating medium voltage cables and the detection of faulty ones.

The device under test must withstand a VLF (very low frequency) AC voltage for a preset testing time without flashover.

In the first step a "Go/No Go" statement is sufficient.
VLF cable testing makes use of AC voltages in a frequency range of 0.01 Hz to 0.1 Hz.


In accordance with respective standards sine wave voltage is used for VLF testing.
Voltage levels are a multiple of the nominal voltage of the cable. They are in the range of 1.5 U0 to 3 U0.
The preset test time in the range of 15 to 60 minutes is short and economical.
While the testing procedures of the past (DC testing) were sometimes actually damaging to the cable insulation, modern VLF test sequences guarantee damage-free cable testing.
The test method is applicable for medium voltage cables with various insulants, such as:
Due to the numerous advantages of VLF cable testing, common testing standards worldwide have included the vlf methodology in their recommendations. (DIN VDE 0276, IEEE 400.2, CENELEC HD620 S1, etc.)
VLF cable testing using b2 high voltage technology
With its HVA series b2hv offers a number of hipot testers with outputs covering the ranges of
0 – 90 kV and 0 – 85 mA.
All devices of the HVA series are designed for mobile use and are exceptional due to their compact and ultra light design.
With their versatility they cover all functions that are of importance in modern VLF cable testing.
The hipot testers of the HVA series meet all respective testing standards. Hence, they are perfectly suitable for worldwide use.
Expanding from cable testing to cable diagnostics
For a more profound judgment of the ageing condition of medium voltage cables VLF cable testing is no longer sufficient.
Cable diagnostics procedures such as tan delta measurement and partial discharge measurement must now be used.
With its HVA series and the respective TD and PD options, b2 offers modular expandable systems for VLF cable testing and cable diagnosis.